Fixed-fee SOC 2 reports from certified, highly experienced auditors, in half the time.
Compete in more deals, respond to more RFPs, reduce the number of client security questionnaires to respond to, and deliver assurance to clients and prospects with a SOC 2 audit performed by Sensiba.

SOC 2 reports delivered up to 60% faster than the industry average.
Most of our reports are delivered within 30 days of the close of the audit period—compared to the 60-90 day average turnaround time of large, national firms.
Fixed-fee pricing and significant savings, with no long-term commitment.
We have SOC 2 reporting down to a science; this allows us to offer fixed-fee pricing at a 25-30% cost savings over competitors. Additionally, we're here to help, whether you want a readiness assessment or a full SOC 2 audit. No surprise fees. No strings attached. Simple.
Experienced, certified auditors, not contractors.
We don't cut corners on quality. We are a peer reviewed CPA firm with auditors that maintain industry-recognized certifications. Furthermore, your SOC 2 audit will be led by a senior auditor with at least 8-10 years of experience – not an outsourced contractor.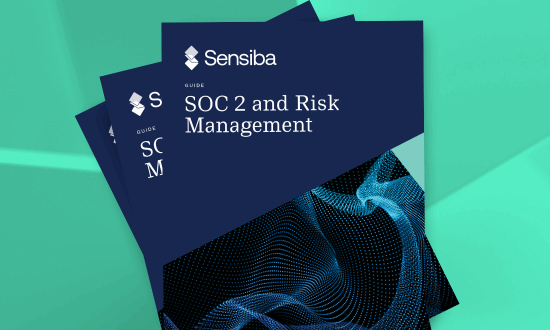 DOWNLOAD
Guidance, every step of the way.
Our goal is to make your SOC 2 audit as simple as possible. As part of our readiness process, you'll receive sample controls guidance on developing your system description and examples of evidence to help you quickly prepare to meet each required SOC 2 criteria.
Wondering what steps you can take to be prepared? Download our guide "SOC 2 and Risk Management".
Best of Accounting Diamond Award™ for Client Satisfaction
5

years
What other businesses say about us.
Besides providing an excellent intro to the firm via SOC2, Bill Confer helped several times in connecting and coordinating multiple Sensiba team members and groups with us … he took extra effort, despite a very busy schedule and heavy workload, to make sure all the pieces were working.
See More Reviews on clearlyrated.com
Ready to get started?
Contact us today and we can help determine which assurance service is the best fit for your situation.